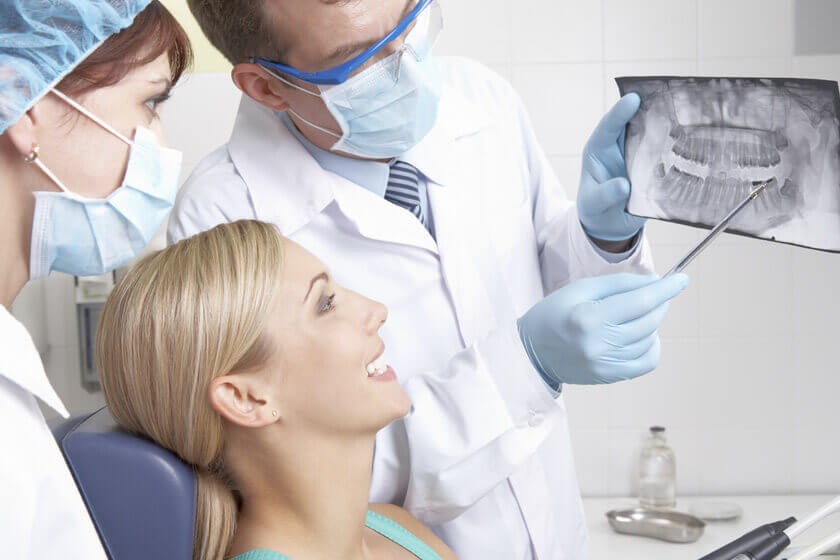 WHY YOU NEED TO BE CONSIDERING DENTAL IMPLANTS
A key component in a healthy, beautiful smile is that you have all your teeth. A single lost tooth, even if the gap is hidden in your back teeth or visible impacts the health and look of your smile. The good thing is that with contemporary dental implants, you are able to replace a single tooth, many, or all of your teeth using natural-looking restorations that don't need extra care. Our staff at DentalWorks - Wake Forest is pleased to provide several kinds of implant-supported restorations to our patients in Wake Forest, NC. If you've lost any number of teeth, keep reading to find out about the benefits of dental implants, the many restoration and implant options, who's a candidate for implants, the way implants are set, and how to take care of your implant-supported restoration once they are in. When you're ready to find out more about dental implants after reading this article, contact our practice in Wake Forest, NC to schedule a dental health examination and consultation.
ADVANTAGES OF DENTAL IMPLANTS OVER CONVENTIONAL RESTORATIONS
Conventional restorations for lost teeth (dental bridges and removable dentures) have been helping people for quite a while, but today, there is a better option. Conventional restorations need special care, include food limitations, and frequently don't feel secure or look natural. Additionally, with no tooth to stimulate the gums and jawbone, the tissue will begin to atrophy and impacts the health and look of your smile. Dental implants keep the gums and jawbone active while providing a stable foundation for your attached restoration. Implanted restorations may be cared for just like the natural teeth, so no food limitations and no overnight soaking.
TYPES OF IMPLANTED RESTORATIONS
Whether you only want a tooth replaced, many, or all of your teeth, DentalWorks - Wake Forest provides a broad choice of implant-supported restorations.
IMPLANTED BRIDGE
If you need to replace one or a couple of teeth, an implanted bridge could possibly be connected to one or more implants. For extra support, the false tooth or teeth will be attached to the implant(s) along with a crown(s) put on top of a neighboring tooth.
IMPLANTED DENTURES
To restore all of the teeth in your upper and/or lower arch, custom-made dentures can be connected to numerous implants. It typically requires a minimum of four well-placed implants each arch to hold the dentures.
IMPLANTED CROWN
To replace one lost tooth, an implant may be connected to your crown. The implanted crown is going to be shaded and shaped to match with your teeth to give you a natural-looking result.
IMPLANTED PARTIALS
Replacing a lot of but not every tooth, implanted partial dentures connect to numerous posts to fill in spaces. The restoration connected to the implants will be custom made to match with your natural teeth to give you a beautiful grin.
IDEAL CANDIDATES FOR DENTAL IMPLANTS
Before you can get an implant-supported restoration, your dentist in Wake Forest, NC will have to determine if you're a good candidate. In general, you'll have to have great dental health, including strong gums along with a dense jaw. If your gum tissue or jaw have atrophied and cannot hold an implant, then your dentist might suggest bone or gum grafting. This will increase your overall treatment time; however, it is going to make sure that your implant is securely planted before a restoration is added. Dental implant candidates shouldn't use tobacco (chewing, vaping, or smoking) because this can interfere with the healing process.
THE IMPLANT PROCESS
Dental implants may take a little more time than conventional restorations; however, many people agree that the outcomes are worthwhile. Once your dentist has decided you're a candidate for implants, then they will produce your treatment program. If necessary, tooth extractions, as well as bone and/or gum grafts will be done to prep the mouth. Afterward, your oral surgery can be performed. Typically done with IV sedation, your dentist will twist the implant post(s) into carefully chosen points going through your gums and into the jaw. They'll also take digital or physical impressions, which are given to a dental lab so they can design your customized restoration. Following implant surgery, your mouth may feel somewhat sore as the jawbone and gums heal and integrate with the implant(s). It is crucial that you follow each of the instructions provided by your dentist to avoid a problem and promote faster healing. It takes about 3 – 6 months until the implant(s) is stable enough. In this period, your dentist will probably put a temporary cover or restoration on top of the post to protect it. As soon as your dentist decides the implant(s) is ready, they'll connect your custom restoration. Small adjustments might be needed to ensure that your implant-supported restoration is comfy and secure. It could take some time for you to adapt to your implanted restoration, but in time, you ought to be eating, smiling, and speaking effortlessly.
CARING FOR YOUR IMPLANTS
Among the biggest benefits of an implanted restoration is the fact that it needs to be treated like your own teeth. This means brushing two times daily using fluoridated toothpaste and a soft-bristled toothbrush and flossing once a day. Most dentists also recommend rinsing after lunch with mouthwash to clean away plaque, debris, and bacteria. In addition to a good home oral hygiene regimen, you should schedule appointments with a dental practitioner in Wake Forest, NC two or more times a year for an oral health examination and twice-yearly cleaning. In these appointments, your dentist will assess the wear and health of your implanted restoration. They'll tell you whether the implant or restoration has to be replaced or repaired.
GET AN IMPLANT-SUPPORTED SMILE
Implanted restorations have enhanced the lives of several women and men in Wake Forest, NC. If you're missing any teeth and are interested in rejuvenating your smile with dental implants, contact DentalWorks - Wake Forest to schedule a dental health examination and consultation. Our staff will work together with you to determine if you're a great candidate and create a treatment program that can get you on the road to a gorgeous smile with a custom, implant-supported restoration.